We are No.1 factory of off road caravan trailer in China. Chinese Famous Brand Factory. We exported about 5000 units to Australia and USA every year. We have more than 100 patents on our caravan. We produce more than 30 kinds of the caravan trailers and the camper trailers. Welcome your further inquiry. We only offer you the caravan with the best quality and good price.
Model No.: Robson XTT Dual Fold
LENGTH: 5.8m
TENT COLOUR: Khaki / Sand
HEIGHT (HIGHEST): 3.3m
WIDTH: 2.26
DRAWBAR: 120 x 50 x 4mm RHS
TOWBALL WEIGHT: 135kg
TARE WEIGHT: Approx. 1720kg
ATM: 2400kg
SIZE CLOSED: 2,100 x 3,000 x 725mm
SIZE OPENED: 6,000 x 2,250 x 2,000mm
STYLE: Hardfloor - dual fold
SUSPENSION: 70 x 70 x 6mm independent trailing arm with dual shock absorbers
WHEEL/TYRE INFO: Wheel / tyre info 265/75 R16 mud terrain Goodride, alloy wheels (2 x spare wheels included)
COUPLING: D035
STONE GUARD: Stone guard & stone tamers
BRAKES : 4WD 12" electric with hand brake
GAS CYLINDERS: 2 x 9kg gas cylinder holders
JERRY CANS: 2 x 20L jerry can holders
KITCHEN CONSTRUCTION: External 304 grade
WATER TANK: 1 x 80L and 1 x 120L poly tank with 3mm aluminium bash plate
WATER DELIVERY: 12V automatic electric pump
FRIDGE SLIDE: 840mmL x 500mmW x 570mmH. Capable of accommodating Dometic 95L
HOT HEATER: 14L Truma boiler (gas)
BATTERIES: AGM deep cycle, 2 x 100ah
SOLAR: 120W regulated
JOCKEY WHEEL: 10" Swing-up and lockable
STABILISER LEG : 4 x heavy duty lockable and adjustable drop-down
LIGHTS LED : submersible tail lights and number-plate light
INTERIOR LIGHTING: 3 LED light strips
CHARGER: Charger Projecta IC1500 15A 7 stage full auto 240V charger and 25A Projecta IDC25 DC/Solar charger
INVERTER: Inverter Projecta 1000W modified Sinewave 240V inverter
OUTLETS: 2 x 12V x 6 & 2 USB, 240V
LIGHT CONNECTION PLUG: 7 Pin round or 7 pin flat connection available
Fridge are optional.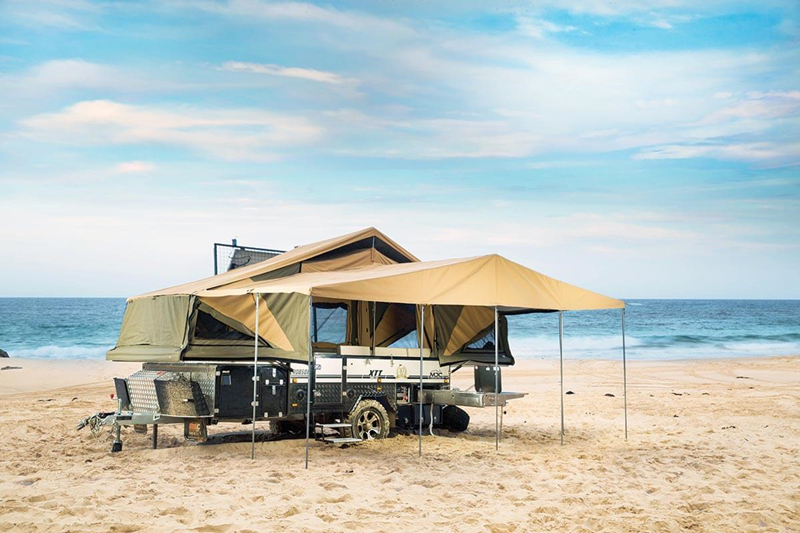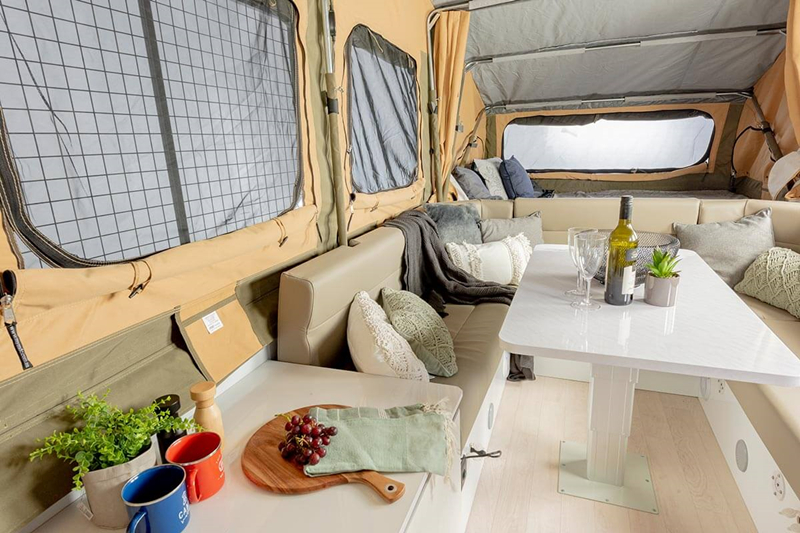 Inquiry us about more pictures, video and price at once !