We are No.1 factory of off road caravan trailer in China. Chinese Famous Brand Factory. We exported about 5000 units to Australia and USA every year. We have more than 100 patents on our caravan. We produce more than 30 kinds of the caravan trailers and the camper trailers. Welcome your further inquiry. We only offer you the caravan with the best quality and good price.
Model No.: Cruizer Highside
LENGTH : 5.3m
TENT COLOUR: Khaki / Sand
HEIGHT (HIGHEST): 2.8m
DRAWBAR: 120 x 50 x 3mm RHS extended
TOWBALL WEIGHT: Approx. 179kg
TARE WEIGHT: Approx. 1580kg
ATM: 2300kg
SIZE CLOSED: 2,100 x 1,800 x 725mm
OPENED: 5,100 x 1,800 x 2,250mm
STYLE: Hard floor - forward fold
SUSPENSION: Independent suspension with dual shock absorbers, trailing arm and coil spring
WHEEL/TYRE INFO: 4 x Brand new 16" (Toyota 6 stud pattern) alloy wheels and mud terrain tyres
STONE GUARD: Stone guard & stone tamers
BRAKES : 4WD 12" electric with hand brake
GAS CYLINDERS: 2 x 4kg gas cylinder holders
KITCHEN CONSTRUCTION: Thetford stainless steel Argent 4 burner hob deluxe cooker
FRIDGE SLIDE: Capable of holding up to 80L Engel / 110L Evakool
WATER TANK: 120L poly tank with 3mm alloy bash plate with 12V electric pump
HOT HEATER: Country Comfort LPG gas instant – 6L p/m, not plumbed
BATTERIES: 3 x 100amp 12V deep cycle batteries
INVERTER: 600W modified Sine 240V inverter
STEREO SYSTEM : Kenwood stereo & speakers
SOLAR: 180W folding solar panel
JOCKEY WHEEL: 10" Swing-up and lockable
STABILISER LEG : 4 x heavy duty lockable and adjustable drop-down
LIGHTS LED: submersible tail lights and number-plate light
CHARGER: Projecta 15A 7 stage full auto 240V charger
HITCH: ADR 62/02 Poly block off road hitch (360 degrees)
TENT: A huge 22sqm of living space if tent and annex set up
TENT SIZE: 4.2m x 1.8m
TENT HEIGHT: 1.8m (lowest) - 2.8m (highest)
CANVAS: 16oz Sherpa Closeweave canvas with double stitching throughout. Tropical roof included standard. All stress points reinforced. Additional seam tape on roof to further prevent water ingress. YKK zippers
MATTRESS BED BASE SIZE: Innerspring queen size mattress included 1.95m x 1.65m
POLES: Galvanized steel poles, dia19/22/25mm
WINDOWS: Mosquito & midgee proof netting
Fridge are optional.
*All weights do not include gas bottles, jerry cans, annex walls & roof.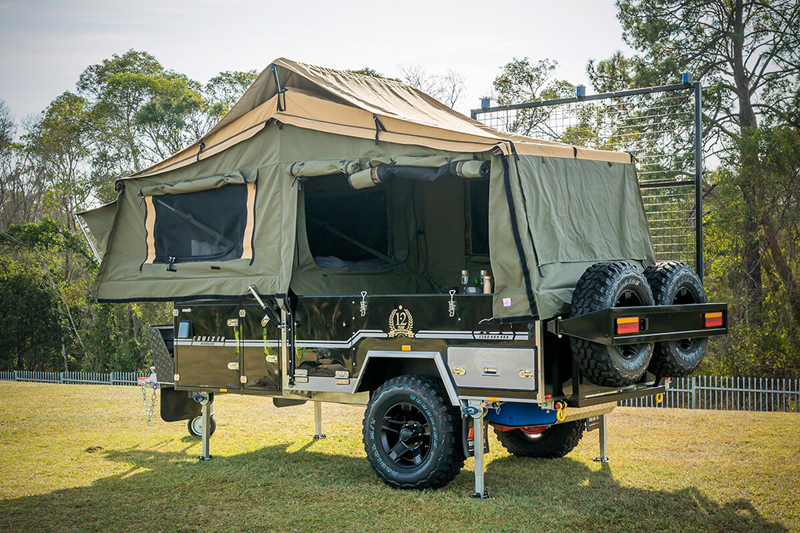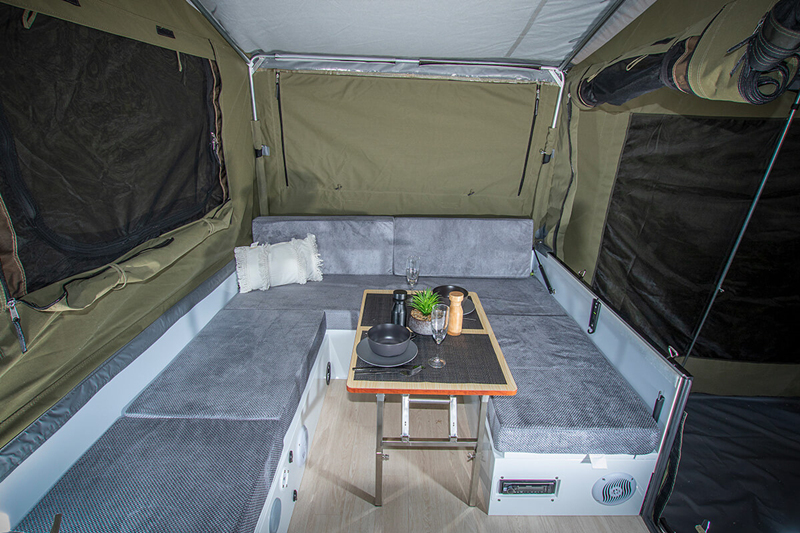 Inquiry us about more pictures, video and price at once !