We are No.1 factory of off road caravan trailer in China. Chinese Famous Brand Factory. We exported about 5000 units to Australia and USA every year. We have more than 100 patents on our caravan. We produce more than 30 kinds of the caravan trailers and the camper trailers. Welcome your further inquiry. We only offer you the caravan with the best quality and good price.
Model No.: Forbes 13
STYLE: Hybrid Offroad Caravan
BERTH: 2
TOWBALL WEIGHT: Approx 150kg
ATM: 3000kg
TARE: Approx 2090kg
DRAW BAR CONSTRUCTION: Hot Dipped Galvanised inside & out 150 x 50 x 3mm
CHASSIS CONSTRUCTION: Hot Dipped Galvanised inside & out 120 x 50 x 3mm
BODY CONSTRUCTION: Combination of 75 x 25 RHS and 50 x 25 RHS and 25 x 25 square aluminum alloy+composite panel
SUSPENSION: Independent trailing arm suspension with 4 x shock absorbers and coil springs
AWNING: 3.2 meters electric
WHEEL/TYRE INFO: 265/75 R16 Goodride radial mud terrain
WATER TANK: 1 x 120L Freshwater, 1 x 80L Greywater
BRAKES : 12" electric with hand brake & break away system
STONE GUARD: Integrated Central Aluminium Toolbox + Outer Stone Deflectors
JERRY CANS : 2 x 20L Jerry can holders
GAS CYLINDERS : 2 x 9kg gas cylinder holders
KITCHEN CONSTRUCTION: External 304 grade stainless steel with Thetford 4 burner stove & Thetford Argent sink MK3
WATER DELIVERY: 12v electric pump
TOILET: Thetford toilet
BATTERY: 3x 100ah deep cycle AGM battery , solar 3 x 100 watt panels
CHARGER: 35A 7 stage full auto 240V charger
OUTLETS: Multiple 240V Double Pole outlets throughout
BOOSTER CHARGER: Projecta IDC 25-9-32V 25A 3 stage
INVERTER: 1000w modified Sine 240v inverter
STABILISER LEGS: 4 x heavy duty lockable and adjustable drop-down
LIGHT CONNECTION PLUG: 12 pin
STRUCTURE: Fully welded frame +chassis
JOCKEY WHEEL: 10 inch folding
FINISH: Gal chassis + aluminum composite panel
AC , Fridge and Diesel heater are optional.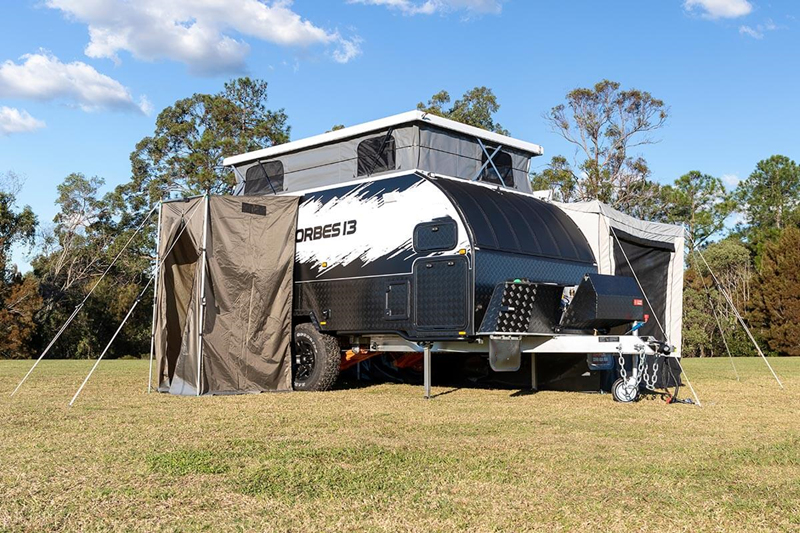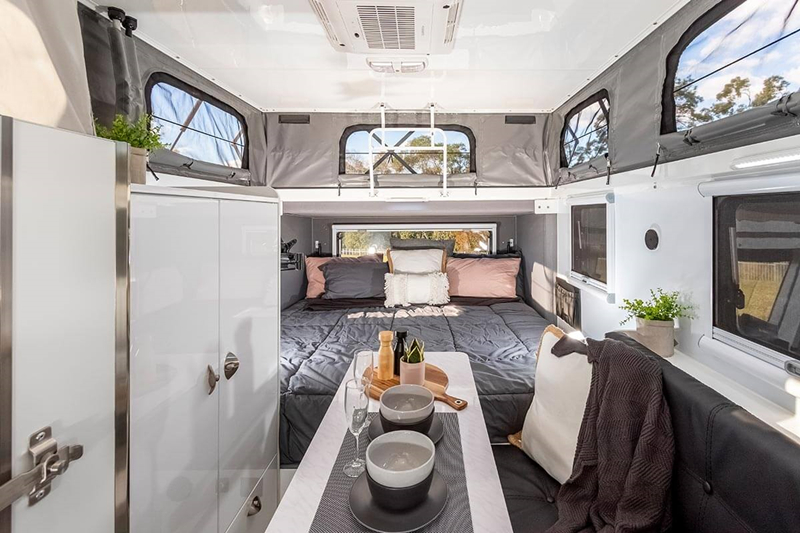 Inquiry us about more pictures, video and price at once !